"Ekiben" is the bento boxes sold at each train station and represents each of the speciality of the regions. "Ekiben" with melody sold at station! "Moo Taro Bento"!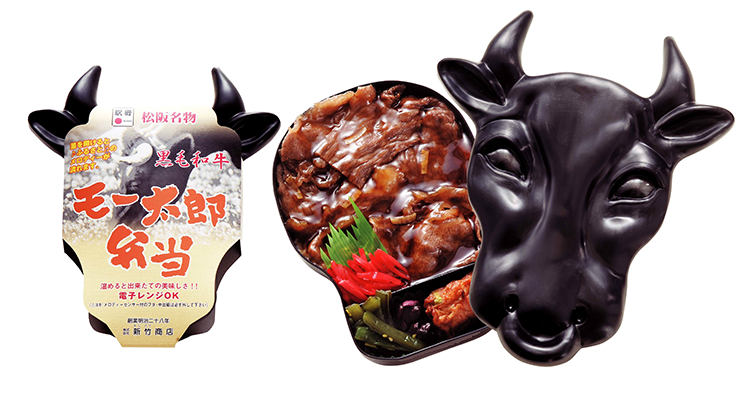 You will be surprised with the shape of the Moo Taro Bento!! It's a cow which is well-kwon product in Matsusaka!!
If you open the Moo Taro Bento, you will hear the sound of the music automatically which is very unique, and it's very popular among tourists from abroad.
Moo Taro Bento is filled with "Wagyu" on the top of rice called "Gyu-don" in Japanese.

Enjoy Moo Taro Bento with your five senses!!!
Step 1: [Sight] You will be attracted by the unique cow-shaped package.
Step 2: [Hearing] You will hear the sound of melody called "Furusato", a Japanese nursery song when you open Moo Taro Bento.
Step 3: [Smell] You will smell the tasty smell of "sukiyaki" with the melody of "Furusato".
Step 4: [Taste] You will be fascinated with the special taste of "sukiyaki" adding a bit of ginger, well-known product in Matsuaka.
Step 5: [Heart] We hope you will feel the nostalgia of "Ekiben" that has long history in Japan, and cordiality of cowherd in Masusaka from Moo Taro Bento.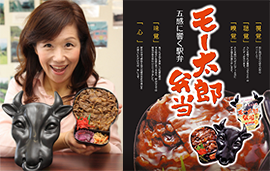 The automatic music of "Furusato" from Moo Taro Bento will repeat 20000 times when the sensors of the music react to light.
You can put this sensors device anywhere, on tables, in fridges or in closets with the stickers. Please enjoy the music with your nice ideas.

We also have various kinds of bento boxes such as thermal bento box which you can heat it up by pulling a string attached to the box.
[Where to buy]
Aratake main store of Ekiben
729-3, Hino town, Matsusaka city Google Maps→
Aratake branch shop at Matsusaka Station
Next to a ticket gate of Matsusaka Station Google Maps→
Tel : 0598-21-4350
Open hours : 9:00AM~6:00PM
Drive-in Aratake
Takihara 121, Taiki-cho, Watarai-gun Google Maps→
Tel : 0598-82-2222
Email : info@ekiben-aratake.com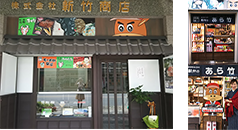 Aratake main store & branch shop at Station

Drive-in Aratake